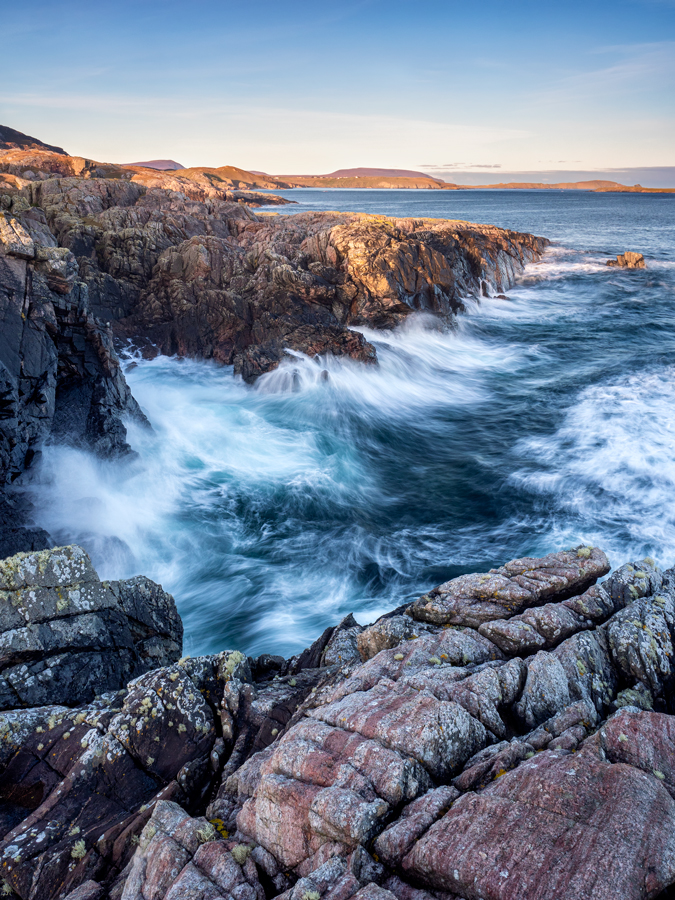 I have wanted to get back to Sutherland since last winter as I just love it up there, I love the peace and solitude, you are also cut off from civilisation and have the place to yourself, just bliss! 
We were based at the cottages at Rispond and checking google maps in advance could see it had it's own private peninsula, so I was excited at the prospect to see what I could capture literally from my own doorstep.  I was not disappointed, weather was very kind to us aswell, almost too kind with lack of clouds, but some days was too cloudy and not as forecast, the joys of weather forecasting.   
The clear skies, lack of wind and zero light pollution meant I could try capture the milky way.  The dark skies in Sutherland just take my breath away, it is awe inspiring.  Thankfully I was able to use boats in the bay next to the cottages as foreground interest and the interior light in the cottages supplied enough light to gently illuminate the boat. 
Checking the preview screen to ensure composition and sharpness were acceptable, I noticed a familiar green glow above one of the cottages.  As I was pointing north, I was fairly certain it was the northern lights.  Excited, I rushed back to the cottage and got driven to the coastline to have a clear view north.  I did not need to take a photo to check as I could clearly see with my own eyes the northern lights.  I took only a couple of images, one panorama of course but I was so joyous to see it again, I will never tire of seeing it.  
I will put together a gallery of colour images from the trip but I hope to be back to explore the area again as the photo opportunities are endless.